The GRADUATE ASSOCIATION FOR GEOGRAPHY (GAG) is an active and representative voice for all graduate students in the Department of Geography. GAG is cooperative in design, aiming to unite the various geographic sub-disciplines within its membership. The primary purpose of GAG is to facilitate the communication of relative ideas, events, and policies among the faculty, staff, graduate students, and undergraduate students within the Department of Geography and Public Planning.
Specifically, GAG aims to encourage its members to make the most of their graduate school adventures. As graduate students from diverse backgrounds, we bring valuable experiences, interests, skills, energy, and imagination to our department. GAG seeks to recognize and enhance our individual and collective assets through interactive and participatory means. Therefore, GAG provides the organizational basis for its members to sponsor and coordinate academic social events, as well as facilitate the participation of its members in such events. Further, we seek to broaden our academic horizons by participating in academic social functions on a variety of scales, from the department and college level, on to the University and Flagstaff community, and beyond to regional and national levels.
Additionally, as graduate students, we seek to maintain high academic and ethical standards and thereby serve as positive role models for our undergraduate colleagues. Thus, GAG advocates a voluntary mentoring relationship between graduate and undergraduate students within the department. Furthermore, as many GAG members have been, currently are, or hope to be teaching, either as teaching assistants or as future faculty members, GAG aims to facilitate the discussion of teaching methods and epistemologies in order to strengthen the departmentís commitment to excellence in teaching.
Current Officers: Additional Positions:
President: Nicole Antonopoulos IT Liason: Paul Lauck
Vice-President: Bob Tusso Web Admin: Kerstin Stanford
Secretary: Natasha Kramer Faculty Advisor:
Treasurer: Toni George Dr. Samantha Arundel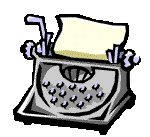 Email the webmaster
Last update November 19, 2003.